News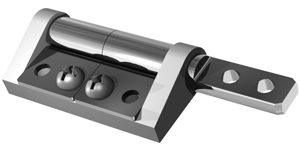 Hanaya Friction Hinges are Now RoHS Compliant
Hanaya has been working very closely with SGS and can now certify that all its hinges are now RoHS compliant – from housing and shafts to the bands and grease. Hanaya provides labels and a compliant test report on every shipment. It is important to notice that the changes made to the materials have not affected the performance of the hinges.
The company has actually taken steps to improve its materials, such as the grease, which now has a very long-lasting effect on the smooth performance of its friction hinges. "This move toward offering a sustainable product at affordable price is part of our continuous effort to meet and exceed our customers' expectations," explained Jose Cortes, VP of Hanaya.
Hanaya Offers New Friction Hinge Design Options
Hanaya has introduced its line of steel friction hinges for the laptop computer, medical, aerospace, and automotive industries. "We intend to aggressively promote our friction hinge product line through direct contact with industry leaders," says Jose Cortes, VP of Sales. "We are already co-operating with design teams associated with IBM, Ricoh, Audiovox and Boeing, and we expect this effort to rapidly increase our client base," Cortes added. "All of our friction hinges are either nickel-plated or made from stainless steel for better protection." Friction hinges have been traditionally used in the computer industry, but there are new and other markets where friction hinges could be used to replace gas springs or regular frictionless hinges. Hanaya's superior manufacturing processes result in time-tested quality friction hinges. "Our friction hinges' life cycles exceed 35,000 in some cases and torque tolerance has been lowered to 10-15%." "Between our design department and the production facilities that we utilize, we have accumulated a wealth of expertise, and proven capabilities within a wide range of industries." "We effectively address unique requirements and challenges for motion mechanisms in a wide range of applications," said Cortes. "Hanaya and its preferred vendors have a strong track record of quality and an extensive commitment to excellence." "Our vendor's production facility in Taiwan and our engineering department here in the USA have accumulated over 10 years of experience manufacturing and designing friction hinges for the computer industry." "The key at Hanaya is that we work in close collaboration with the manufacturers and design houses around the world to help them develop innovative solutions that differentiate their products from that of their competitors' by enhancing the smoothness of the open/close motion," said George Tan, Head of Engineering. Friction hinges are used on laptop computers or where a lid or panel needs to hold a fixed position. Friction hinges should be carefully selected according to the number of operations they are expected to exercise and the force needed to move the part. There are torque and size limitations. "In order to achieve smoothness of operation, we work extensively with our customers." "We refuse to go forward in full production until our prototypes or first articles provide the best feel and most reliable results," concluded Cortes.
Hanaya Friction Hinge Design
Hanaya has accumulated over 20 years of experience in the manufacture and design of friction hinges. Working with a wide range of industries enables us to accumulate a wealth of expertise and experience. This allows us to quickly address requirements and challenges in motion mechanisms for a wide range of applications. Over the years, we have constantly experimented with various techniques and manufacturing processes. This allows us to develop a unique process that is propriety to Hanaya in the development of our friction hinges. In many cases, our friction hinges' life cycles exceed 35,000, and torque tolerance has been lowered to 10-15%. Our friction hinges torque ranges from 0 to over 100 in.lb (0 to over 11 N.m). Hanaya's wrap-around spring technology allows for a more consistent and lasting torque. Our proprietary manufacturing process makes our friction hinges smoother with minimal spring back and no backlash.
Hanaya Website
We are pleased to announce the launching of our Hanaya website on Sept 1st, 2005. Hanaya continues to be the world leader in the design and manufacture of friction hinges.